Plastic CNC Machining
InsulFab Plastics is dedicated exclusively to machining engineering and high-performance plastic materials. Our clients and OEM partners have a vested interest in having their plastic components manufactured in a facility free of any metal contaminants that could potentially jeopardize the integrity of their components. That's why our clients put their trust in InsulFab when looking for a "Plastics Only" machine shop.
Here at InsulFab, we utilize several different types of CNC Machining methodologies all depending on part size, part geometry, and quantity. The following are our areas of expertise.
3 and 4 Axis CNC Machining
The most common type of machining centers are standard 3 Axis work centers. Parts are programmed and cut along the machines X, Y, and Z axes. Many popular brands exist in this space with all having similar functionality and milling capabilities. 3 Axis milling is commonly used to produce a wide range of mechanical components that require milled slots, drilled holes, and similar basic features encountered when designing machined parts. 4 Axis milling is basically the same as 3 Axis with the addition of another rotary axis which allows for cuts to made on the sides of the workpiece.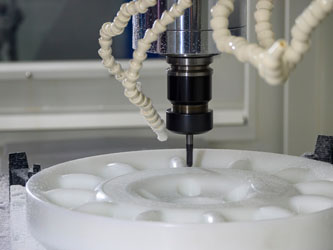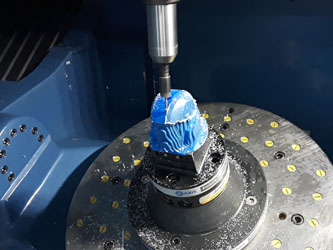 5 Axis CNC Machining
5 Axis Machining is quite similar to 3 and 4 axis machining, but allows for motion around 5 axes simultaneously. This allows for complex parts to be made in a single setup which has the benefit of reducing costs. 5 Axis Machining is ideally suited when you need to machine tight-tolerance components with complex geometries. As you can imagine, having to setup several different fixtures to machine each side of a complex part becomes a time-consuming process. Not only that, but having to orient a part in numerous fixtures introduces more opportunity for misalignment or similar errors to occur.
CNC Routing
CNC Routers are very similar to CNC Milling Machines. CNC Routers are typically used to accommodate large "Flat" or simple 2D parts that can be cut out from large sheets of plastic. In many cases, parts can be nested in specific orientations to provide the best possible material yield. Many CNC Routers are equipped with vacuum systems which aid in holding sheets in place during machining operation.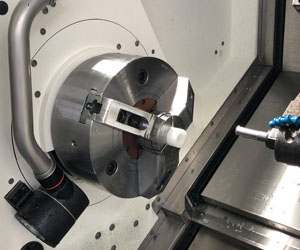 Swiss CNC Machining
Swiss Machining refers to specialty lathes that are intended to machine small diameter parts to exacting tolerances. One of the key differences in a swiss lathe vs a traditional lathe is the moving headstock that a swiss lathe utilizes. A chucking collet latches onto material in the headstock and subsequently passes into the tooling area through a guide bushing. While swiss lathes use several single-point tools, live tooling is usually involved as well. Tools contact the workpiece close to the guide bushing to ensure maximum dimensional accuracy. Additionally, many swiss lathes are equipped with a sub-spindle which allows for working on the backside of parts. Due to the wide range of capabilities a swiss machine offers, parts rarely require secondary operations.
CNC Mill-Turn
CNC Mill Turn machines are multi-tasking multi-function machines that are capable of producing complex geometries in one operation. This reduces the need to machine parts in multiple machines with multiple setups. In addition to standard turning procedures, our mill turn machines provide milling and cross-drilling capabilities with live tools providing a hybrid approach to machining turned plastic components.