Plastic Stamping & Die-Cutting
While the majority of stamping companies tend to focus on stamping various grades of metals, with InsulFab, you have a dedicated partner that specializes in stamping high-performance plastic and non-metallic materials to your exacting specifications. From high speed progressive die stamping to single stroke compound dies, we have a stamping solution suited for your application requirements. We have a complete Tool & Die shop in-house that handles all aspects of your die design, manufacturing, and maintenance throughout the life of the die.
From prototype to production, InsulFab can meet your requirements. Contact us for your next stamped part.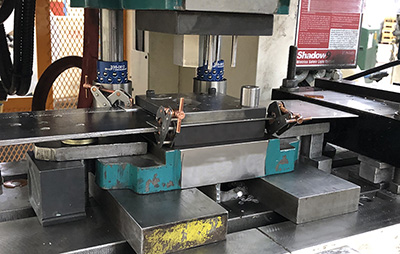 Plastic Materials
Polyimide Film
Kapton ®
PEEK Film
Ultem ® Film
PEI Film
PTFE
Teflon ®
PFA Film
PVDF
ETFE Film
PCTFE Film
PPS Film
Polyphenylsulfone
Polyphenyle-sulfide
Polysulfone
Polycarbonate
Radel ®
Delrin ®
Acetal Copolymer
Nylon
PET Film
PBT
UHMW-PE
Polypropylene
HDPE
PVC
ABS
Noryl ®
Phenolic
G-10
FR-4
G-11
G-7
G-9
GPO-3
GPO-2
Fishpaper
Vulcanized Fiber
Formex ®
Nomex ®
Aramid Paper
Aramid Fabric